Salman, M.Pd.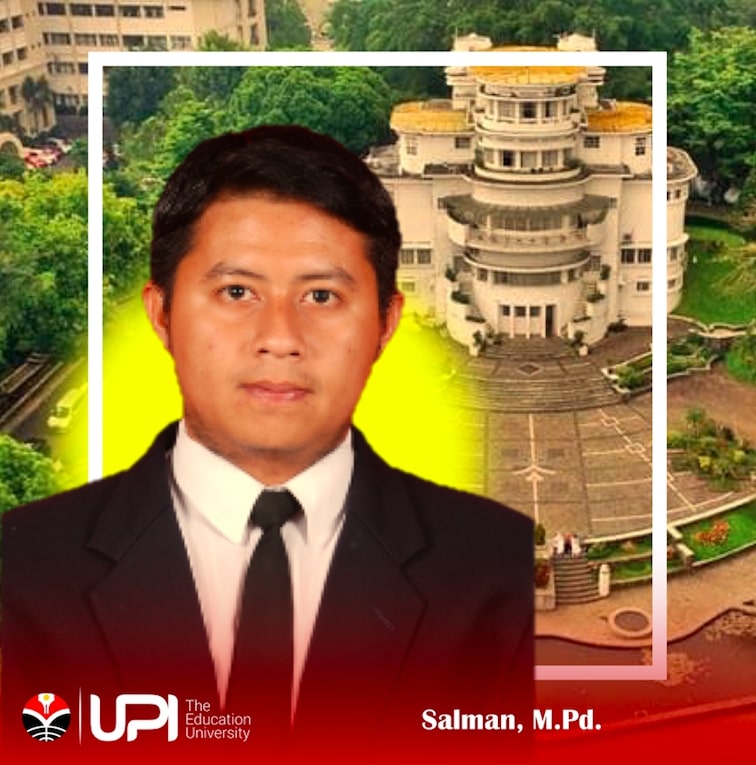 NIP : 920200819880410101
Jabatan : Dosen
Pendidikan : S-1 = FPOK UPI S-2 = SPS UPI
Alamat :
Email : aman.emberik@upi.edu
No HP :
Mata Kuliah
1. Hoki 2. Sepakbola 3. Squash 4. Futsal 5. Senam I 6. Senam II 7. Musik dan Gerak 
Bidang Keilmuan
Key Qualifications:
In accordance with the academic specifications that I have, my expertise is in the field of sports education. Theoretically, the implications of this field of expertise are used to compile and develop various theoretical information in the form of scientific works, such as books, teaching materials, modules, and published articles published on a national and international scale. Whereas practically, he has been practiced in his duties as a PON Jawa Barat hockey referee, a hockey referee at the 2017 Malaysian Sea Games and 2018 Asian games, national hockey athletes, national football referees, national futsal referees.
Biografi
As well as being a lecturer, I am also actively involved in national and international refereeing until now, serving in various national and international competitions, both single and multi-event, such as the National Championship, National Sports Week / Pekan Olahraga Nasional (PON), Sea Games, Asian Games, Asian Championships. In the sports organization, he is the Head of Research and Development for Jawa Barat Teqball, Jawa Barat Hockey Field, dan Personnel Sector for the Central Executive of the Indonesian Hockey Federation./ Federasi Hoki Indonesia (FHI)
Education:
Master of Sports Education, Universitas Pendidikan Indonesia, Bandung, Indonesia, 2011
Bachelor of Sports Education, Universitas Pendidikan Indonesia, Bandung, Indonesia, 2006.
Employment Record:
2015-now, Universitas Pendidikan Indonesia as a Teaching Staff in the field of sports education, his main task is to implement aspects of the Tridharma of Higher Education, namely aspects of education, research, and community service in the field of development and application of sports education as a field of applied studies in sports activities.
Penelitian
Rohmah, A Gumilar, B Hambali, Salman. (2019). Development Of Instrument Batting In Softball With Live Pitching Implementation For Student. 3rd International Conference on Sport Science, Helath and Physical Education
Aktifitas lain
Publikasi
Rohmah, A Gumilar, B Hambali, Salman. (2019). Development Of Instrument Batting In Softball With Live Pitching Implementation For Student. 3rd International Conference on Sport Science, Helath and Physical Education