dr. Ikbal Gentar Alam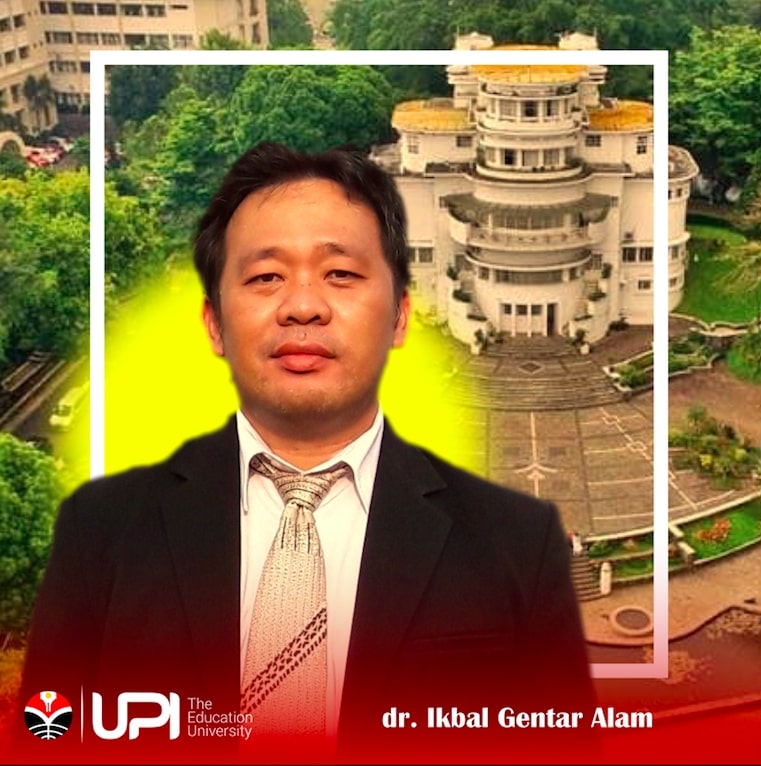 NIP : 197610152008011005
Jabatan : Dosen
Pendidikan : S1=UNPAD
Alamat :
Email : ikbalga@upi.edu
No HP :
Mata Kuliah
1. I Faal Dasar 2. Biomekanika OR 3. Penc.&Perw. Cedera 4. I Faal OR & Prakt.
Bidang Keilmuan
Key Qualifications:
In accordance with my academic qualifications, my scientific focus is in the fields of medicine, health, and nutrition. This scientific field is used to compile and develop various theoretical information in the form of scientific and popular works, such as books, teaching materials, modules, published articles, and articles in newspapers, social media, and other media published on a national and international scale. On a practical level, he has served as a resource person in various scientific and lay medical meetings, training in sports organizations such as swimming and softball, and in various other organizations. I also practice as a clinical nutrition specialist who helps people to be able to apply a healthy diet to improve and maintain their health as well as improve their sick conditions. I also work as a teacher and mentor for undergraduate students at the Faculty of Sports and Health Education, Universitas Pendidikan Indonesia.
Biografi
Education:
Doctoral Program in Medicine and Health, Gadjah Mada University (UGM), Yogyakarta, Indonesia. (currently in education since 2020)
Clinical Nutrition Specialist (SpGK), Specialist Doctor Education Program, Clinical Nutrition Study Program, Faculty of Medicine, University of Indonesia (UI), Jakarta, 2017
Master of Health (Medical Nutrition Concentration), Master Program of Basic Medicine, Padjadjaran University (UNPAD), Bandung, Indonesia. 2014
Doctor's profession, Medical Education Study Program, Faculty of Medicine, Padjadjaran University (UNPAD), Bandung, Indonesia, 2001
Bachelor of Medicine, Medical Education Study Program, Faculty of Medicine, Padjadjaran University (UNPAD), Bandung, Indonesia, 1999.
Employment Record:
2018-present, Yakes Wellness Center (YWC), Telkom as a wellness program consultant doctor. The main task is to conduct assessments and provide recommendations for physical activity therapy to all participants who come to YWC, especially recommendation participants from the Telkom Bandung health clinic regarding hypokinetic disease conditions.
2017-present, Perisai Husada Main Clinic, Al Islam Hospital as a clinical nutrition specialist, with the main task of providing services to the community in the health sector, especially nutritional interventions including promotive, preventive, curative, and rehabilitative programs
2008-present, the Indonesian Education University as an Expert Assistant in the field of Medical and Health Sciences, whose main task is to implement aspects of the Tridharma of Higher Education, namely aspects of education, research, and community service in the fields of medical and health sciences.
2005-2007, King Fahd Hospital, Madinah, Saudi Arabia as a resident of plastic surgery. The main task is as a plastic surgery resident who provides management of plastic surgery patients in trauma, burns, and elective plastic surgery cases according to the direction of a plastic surgeon consultant.
2004-2005, King Fahd Hospital, Madinah, Saudi Arabia as a surgical resident in the emergency room. The main task is as an emergency surgeon resident who provides care for patients in the field of surgery in the emergency room until emergencies are handled and the patient is discharged or entered into the treatment room.
2001-2004, Pertamina Medika Hospital, Cirebon as a doctor in charge of the emergency department (IGD). The main task is to handle patients who come to the emergency room and coordinate with a specialist if the patient requires specialization.
Penelitian
Tarigan B., Subarjah H., Wijaya K. and Alam IG. (2017). Scientific Approach in Physical Education - Can it Improve Concentration and Spatial Intelligence of Senior High School Students in the Mountainous Area?.In 2nd International Conference on Sports Science, Health and Physical Education - Volume 1: ICSSHPE, ISBN 978-989-758-317-9, pages 429-434. DOI: 10.5220/0007062504290434
Alam IG., Negara JDK., Zelphira Febby. (2020). Effect of Obesity on Cognitive Function: A Comparative Study of Cognitive Level in Normal Weight and Obesity Students at Senior High School in West Java Indonesia. In 4th International Conference on Sport Science, Health, and Physical Education (ICSSHPE 2019), Advances in Health Sciences Research, volume 21. Doi.org/10.2991/ahsr.k.200214.072
Aktifitas lain
Membership of Professional Societies:
Indonesian Association of Clinical Nutrition Specialists (PDGKI) 2017-2018: members 2018-present: secretary of the West Java branch of the PDGKI
Indonesian Medical Nutrition Doctors Association (PDGMI) 2017-2018: members 2018-present: secretary II of the West Java branch of PDGMI
Indonesian Association of Anti-Aging, Wellness, Aesthetic and Regenerative Doctors 2021-present: members
Indonesian Doctors Association, 2001-present: member
Indonesia Nutrigenomics - Nutrigenetics Society, 2017-present: members
Publikasi
Tarigan B., Subarjah H., Wijaya K. and Alam IG. (2017). Scientific Approach in Physical Education - Can it Improve Concentration and Spatial Intelligence of Senior High School Students in the Mountainous Area?.In 2nd International Conference on Sports Science, Health and Physical Education - Volume 1: ICSSHPE, ISBN 978-989-758-317-9, pages 429-434. DOI: 10.5220/0007062504290434
Alam IG., Negara JDK., Zelphira Febby. (2020). Effect of Obesity on Cognitive Function: A Comparative Study of Cognitive Level in Normal Weight and Obesity Students at Senior High School in West Java Indonesia. In 4th International Conference on Sport Science, Health, and Physical Education (ICSSHPE 2019), Advances in Health Sciences Research, volume 21. Doi.org/10.2991/ahsr.k.200214.072