Dr. H. Carsiwan, M.Pd.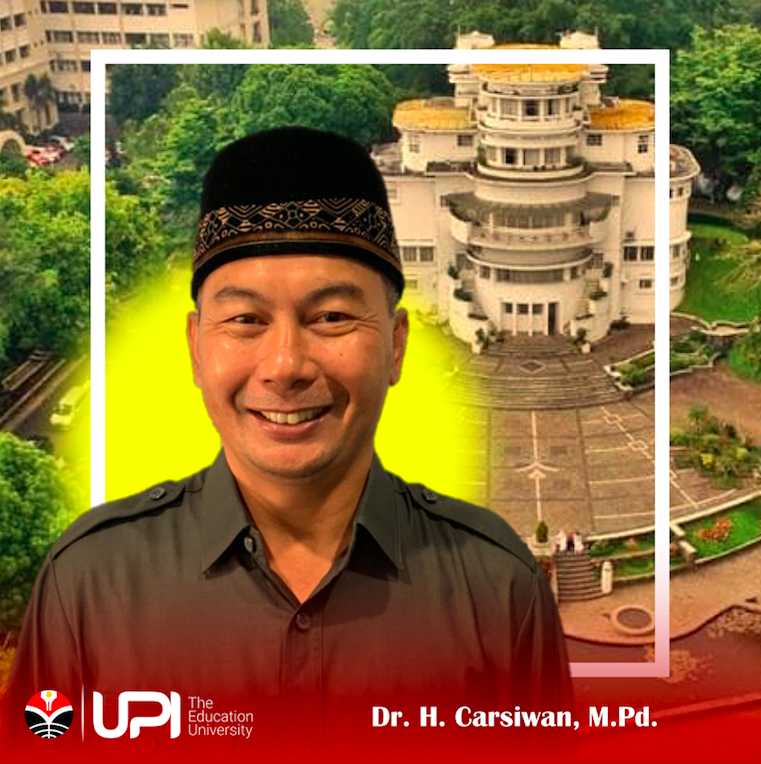 NIP : 197101052002121001
Jabatan : Lektor Kepala
Pendidikan : S-1 = FPOK UPI S-2 = UPI Bandung S-3 = UNINUS
Alamat :
Email : carsiwan@upi.edu
No HP :
Mata Kuliah
1. Sport History and Phyloshopy 2. Renang I 3. Bola voli 4. Teori Bermain 5. Renang II 6. DMP Renang 7. Hoki
Bidang Keilmuan
Sport Pedagogy
Biografi
Education:
Bachelor of Sports Education, Institut Keguruan Ilmu Pendidikan (IKIP) Bandung, Indonesia, 1997
Masters in Sports Education, Postgraduate Program at the Universitas Pendidikan Indonesia, Bandung, Indonesia, 2001.
In accordance with the academic specifications that I have in the Masters in Sports Education, the theoretical and practical implications are Education: teaching courses in Dikactic and Aquatic Methods and Didactic Methods of Sports Games, and the History and Philosophy of Sports. As a lecturer, experience seminars and comparative studies to various regions both nationally and internationally, including comparative studies to Macau, Hong Kong, Guangzhou, Shanghai, comparative studies to Beijing Sport University, comparative studies to Seoul Sport University, comparative studies to CALO Windesheim University in the Netherlands, comparative study to NIE Singapore, International Seminar in Germany, Comparative study to Malaysia and Singapore. In community service, I am active in sports organizations including the general secretary of the West Java PHSI Pengda in 2003-2007. Chairman of the field of achievement development KONI West Bandung Regency in 2009-2013. General Secretary of West Bandung Regency KONI 2013-2017. Chairman of the West Bandung Regency Squash Pengcab 2011-2016 and 2016-2020. Head of the field of media and promotion of FORMI West Java 2016-2021
Employment Record:
2017- Now, Universitas Pendidikan Indonesia as Associate Professor in the field of Sports Education. The main task is to implement the Tridharma of Higher Education, which consists of Education, Research, and Community Service in the field of Sports Education.
2013-2018, Universitas Pendidikan Indonesia, as Secretary of the Department of Sports Education, Faculty of Sports and Health Education (FPOK-UPI). Its main task is to coordinate the programs and activities of the Study Program, foster the development of knowledge and careers of lecturers, and service to students.
2016- Now, the Indonesian Community Recreation Sport Pederasi (FORMI) West Java Province, Indonesia, as the head of the media and promotion sector, is primarily tasked with publishing all FORMI West Java activities and promoting FORMI's duties and roles to all levels of society.
Aktifitas lain
Membership of Professional Societies:
Indonesian Bachelor of Education Association / Ikatan Sarjana Pendidikan Indonesia (ISPI)
Indonesian Sports Bachelot Association / Ikatan Sarjana Olahraga Indonesia
UPI FPOK Alumni Association / Ikatan Alumni FPOK UPI